In May of this year we commissioned a survey of all our trees to see if any were in poor condition. A tree in poor condition could lose branches during stormy weather and cause property damage or injure someone.
The survey was undertaken by Keith MacGregor who has extensive experience in tree management. He holds a diploma in Arboriculture from the Royal Forestry Society – the top professional, vocational, qualification for those working in arboriculture.
The conclusion of the report was that the trees were mostly in excellent health but that the London Planes needed to be inspected further for Masaria Disease. This inspection will be carried out when the trees have dropped their leaves.
Here is a map of all our trees (CLICK to enlarge):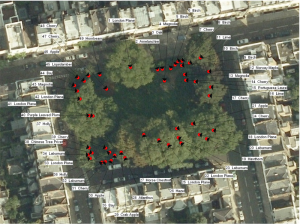 Continue reading Trees of Montpelier Square