Here is a map of all our trees (CLICK to enlarge):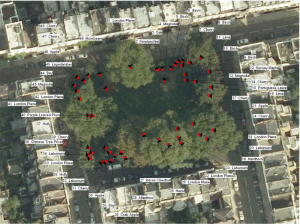 We aim to be responsible stewards of the trees within the garden. The trees are regularly pruned on a rolling 3 year cycle with tree surgery taking place every year. During each tree pruning our plane trees are inspected for massaria. We also conduct less frequent surveys by a qualified arborologist. Their published reports can be found below.
Tree Reports:
In the 2012 report tree number 49 is incorrectly listed as a Hornbeam, in fact it's a Princeton Elm.
Contact details for any of our contractors can be found here.